The Power Shelf Controller (PSC) is an integral part of the Lite-On DC UPS system. A fully-configured DC UPS system consists of a power shelf connected to a Backup Battery System (BBS) for uninterruptible power backup protection. On the front of the power shelf is a slot for the Power Shelf Controller along with multiple slots for Power Supply Units (PSUs).

The Power Shelf Controller is a hot-swappable module that monitors the Power Supply Unit (PSU) or Battery Backup Unit (BBU) and provides parametric information to the Site Management Controller (SMC). Based on the data, the SMC, or other monitoring software, can control the PSU or BBU.

Whether using a user provided proprietary program or having Lite-On design the controller, be assured that Lite-On Power Shelf products can address any critical infrastructure power requirements.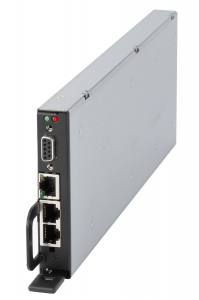 "Monitors up to 10 Power Supply Units and 8 Battery Backup Units."
Key Features
CM-12CP-010U
Monitors up to 10 PSUs and 8 BBUs
Hot-swappable for easy installation and maintenance
Configurable alarm and reminder notifications
Real-time monitoring capabilities for power shelves and battery backup system
Real-time alarm logging and delivery
SNMP (v2c, v3), Web server, RestAPI, and IPMI support for remote management
Secure web interface
Efficiency management system for optimizing power shelf efficiency
10/100/1000 Ethernet port support IPv6, SNMPv3
CAN communication port